Brand new Adsafe posters have just been released
and are now available for use in your local churches!!!!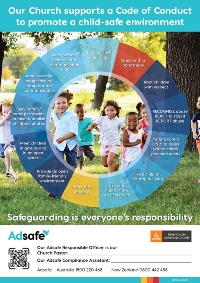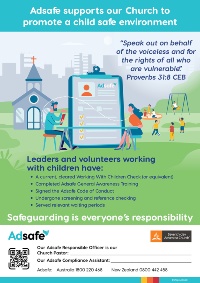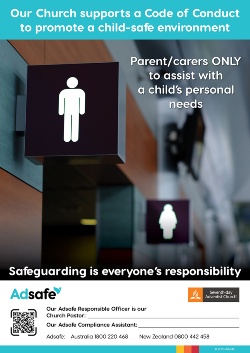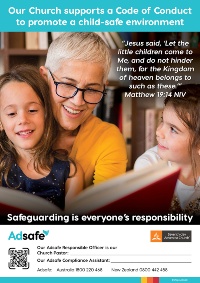 These new posters can be found on the Brochures, Fact Sheets and Posters webpage in the resources section of the Adsafe website.
---
What are these posters?
There are four posters available:
Code of Conduct - summary of the main elements of the Code of Conduct
Screening - listing the elements of the screening process for child-related volunteers and board members at the local church
Parents Only - a reminder that only the parent/carer is to support a child with their personal needs
Generic - promoting a child-safe environment
How should these posters be used?
The posters can be printed in either A3 or A4 size and displayed in strategic locations around the church.
The church foyer is a good place to introduce members and guests to a safe environment, and to highlight appropriate behaviours. Additionally near or inside Sabbath School classrooms or toilets would be good locations for the Parents Only poster to remind parents and carers that only they should be attending to their child's toileting needs.
We suggest making a point of letting the congregation know that the posters have been placed around the church building.
Where can these posters be printed?
Using the print-ready versions (High Resolution or professional print versions):
print your own copies on a home or office printer,
use the services of your local print shop (eg OfficeWorks)
request a set of A3 posters to be posted to you from the Adventist Media Digital Press (Wahroonga)
How to order posters from Adventist Media...
Email your request for posters to digitalpress@signspublishing.com.au
In your email include this information:
the poster set you are requesting "Adsafe Poster Set 2023"
your name
contact phone number
the name of your church
the postal address to send the posters
the number of sets of posters you would like (quantity)
if there is a date that you require the posters before
any special paper or other sizes for the printing of the posters
how you would like to be invoiced and provide payment . . . are you paying personally, or are you giving approval for your church to be charged through the relevant conference?
Cost: starting at $16 per set of four (4) A3 posters. This includes GST, mailing tube and postage to anywhere within Australia.
For shipment to New Zealand, additional sets of posters, different sizes of posters, or special paper, please request a quote in your email.
To save on postage it is also possible to arrange a pickup from the Adventist Media Centre in Wahroonga. Please mention this in your email to the Adventist Media Digital Press.